With street art all the rage, there are now tons of cool, must-stop-and-take-a-photo stations in every big city. And why not participate in pop culture? The results make a good social share, or photo book story...and no matter the age it's fun to have "been there, done that" and "got the photo". So when you're next in LA, here are our top picks for your LA pics.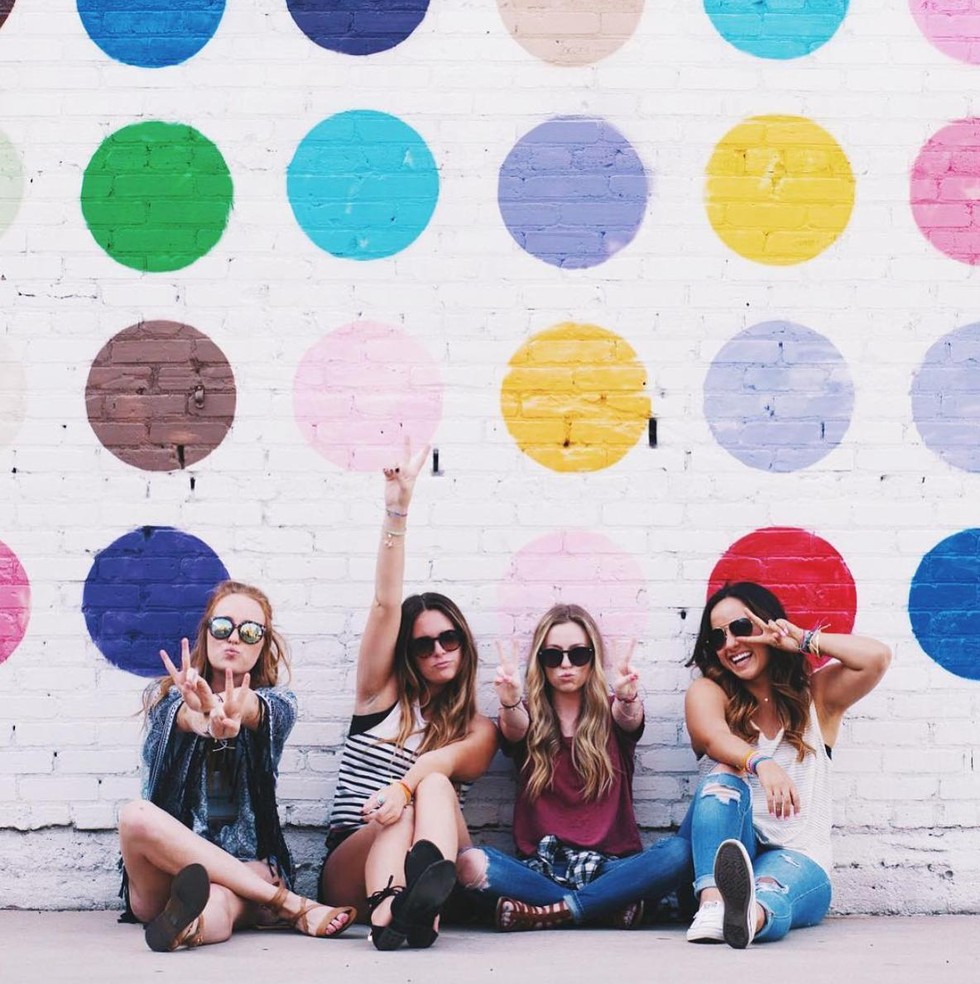 PC via Instagram by @caracuulei
Polka Dot wall by The Most Famous Artist
Located at: The Springs, 608 Mateo St., DTLA Arts District
PC Losa Angeles Magazine
Made in LA wall
Located at: Cisco Home, 8025 Melrose Ave. (at N Laurel Avenue), West Hollywood
PC Impermanent-art.tumblr.com
Love Wall by Curtis Kulig.
Located at: Smash box Studios, 8549 Higuera St. (Hayden Ave & Warner Drive), Culver City
PC visionsofnyc.blogspot.com
Girls Tour, Sorella Boutique
Located at: On the side of Sorella boutique at the corner of Melrose and N. Orange Grove Ave.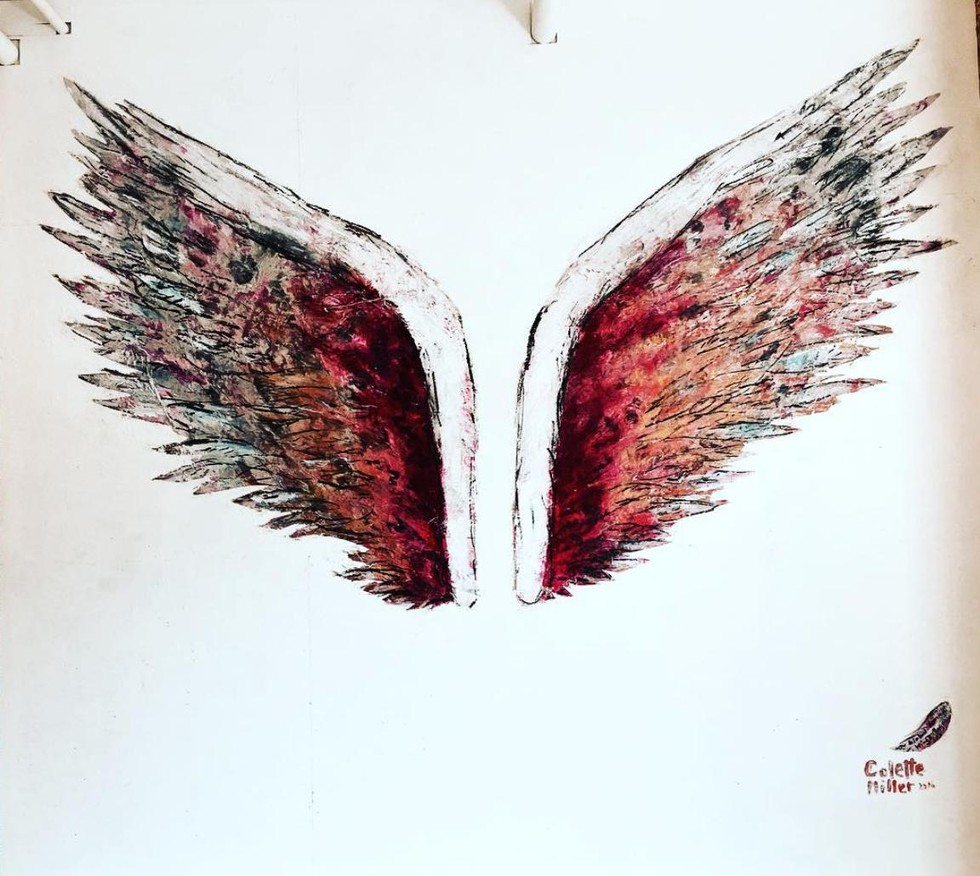 PC via Instagram by @colettemillerwings
Angel Wings by Colette Miller
Located at: Literally all around LA (Culver City, Santa Monica, Koreatown, Melrose, Midcity, West Hollywood, Downtown, etc.) so, find some wings near you with a quick google search. Wings pictured located at Malibu Lumber Yard.
PC via Studio DIY by Jeff Mindell
Mondrian wall by Kurt Thompson
Located at: Artist & Craftsman Supply, 1660 S. La Cienega Blvd.
PC via California Weekend Magazine
The Pink Wall, Paul Smith
Located at: Paul Smith 8221 Melrose Ave. (at N. Harper Avenue), West Hollywood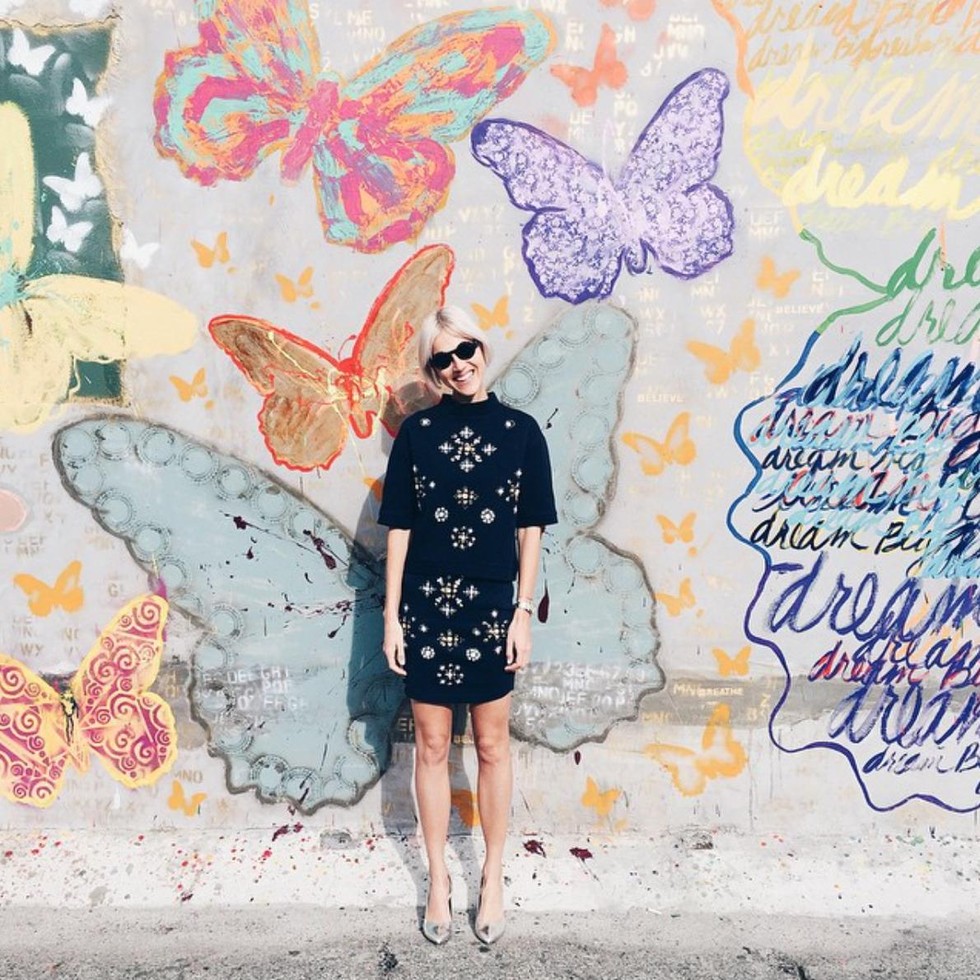 PC via Instagram by @lindatol
The Dance of Butterflies by Marisabel Bazan
Located at: 621 N La Cienega Blvd (on the parking lot of Modern Rugs)
PC Small Fry Blog
Love Wall / Bleeding Hearts by artist James Goldcrown
Located at: Santa Clara Avenue and Abbot Kinney Boulevard, Venice.
PC Los Angeles Magazine
The Heart of Los Angeles by artist Tiphanie Brooke and her partner Mike Polson.
Located in multiple locations around LA: Downtown (across from the Staples Center, and on Pico Boulevard at Flower Street). In Koreatown (at Wilshire Boulevard and Westmoreland Avenue). In Exposition Park (29th St. east of the Coliseum). In MacArthur Park (Alvarado Street at 8th Street). In Century City (at Fox Hills Drive and Pico Boulevard).
PC Jeff Mindell via Studio DIY
SASKIA by Joe Nicoletti Vidiots
Located at: 302 Pico Blvd. (off 3rd Street), Santa Monica
PC via DetourLA
Happy Hearts Mural by Chris Uphues
Located at: The alley behind Pygmy Hippo Shoppe, 306 N Stanley Ave, Los Angeles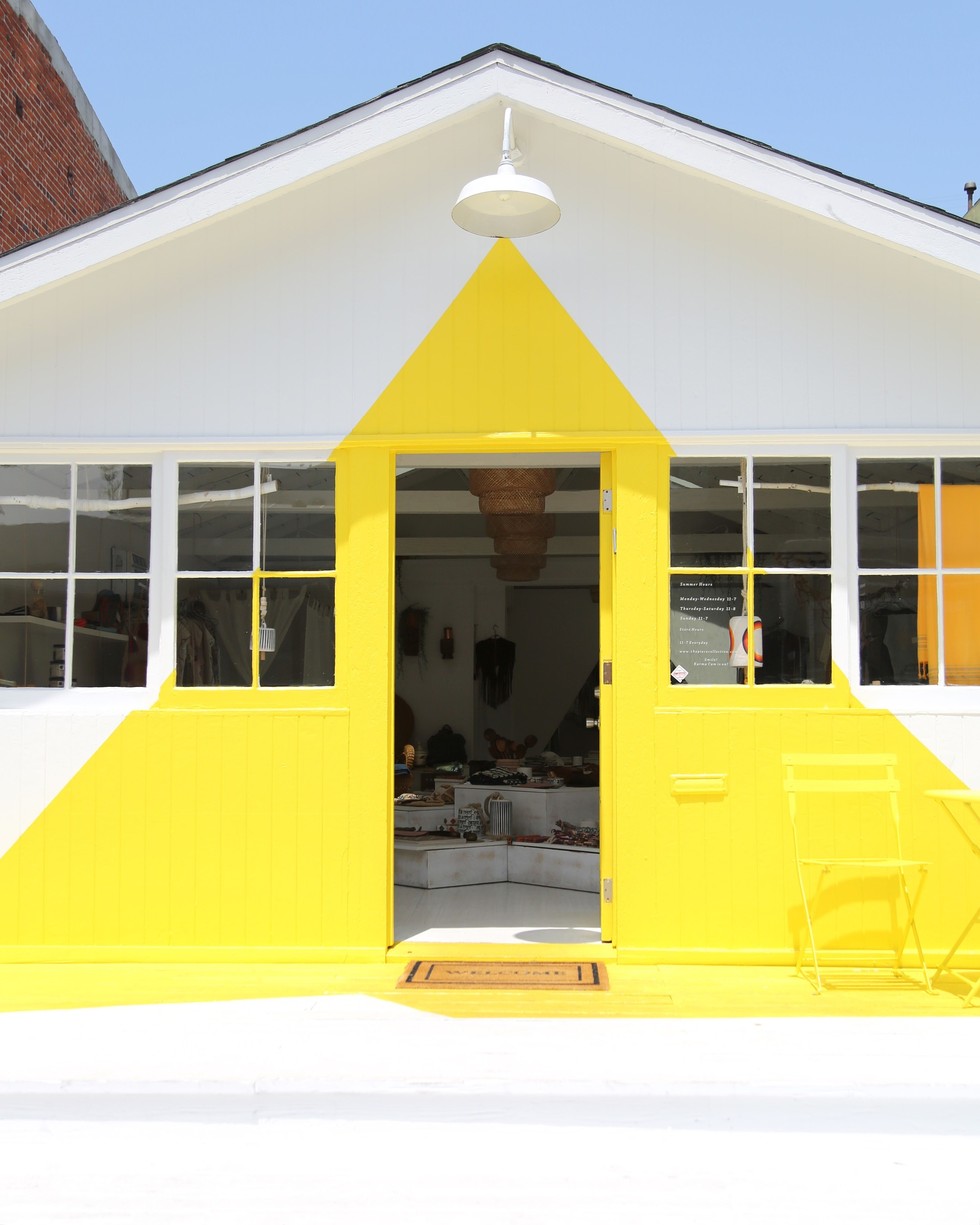 PC via Instagram by @Caseyafriese
The Piece Collective

Located at: 1629 Abbot Kinney Blvd, Venice
PC la.eater.com
Mr. Holmes Bakery
Located at: 111 S Ave 59, Los Angeles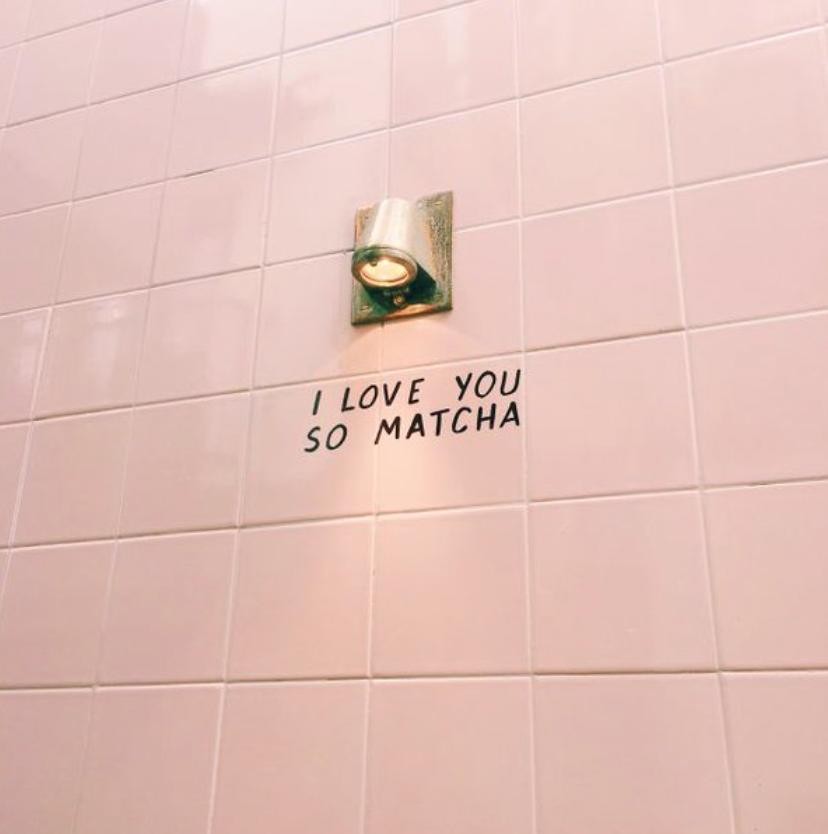 PC via Twitter by @voguelence
Alfred Coffee
Located at: 8428 Melrose Place (near Melrose Avenue) But First Coffee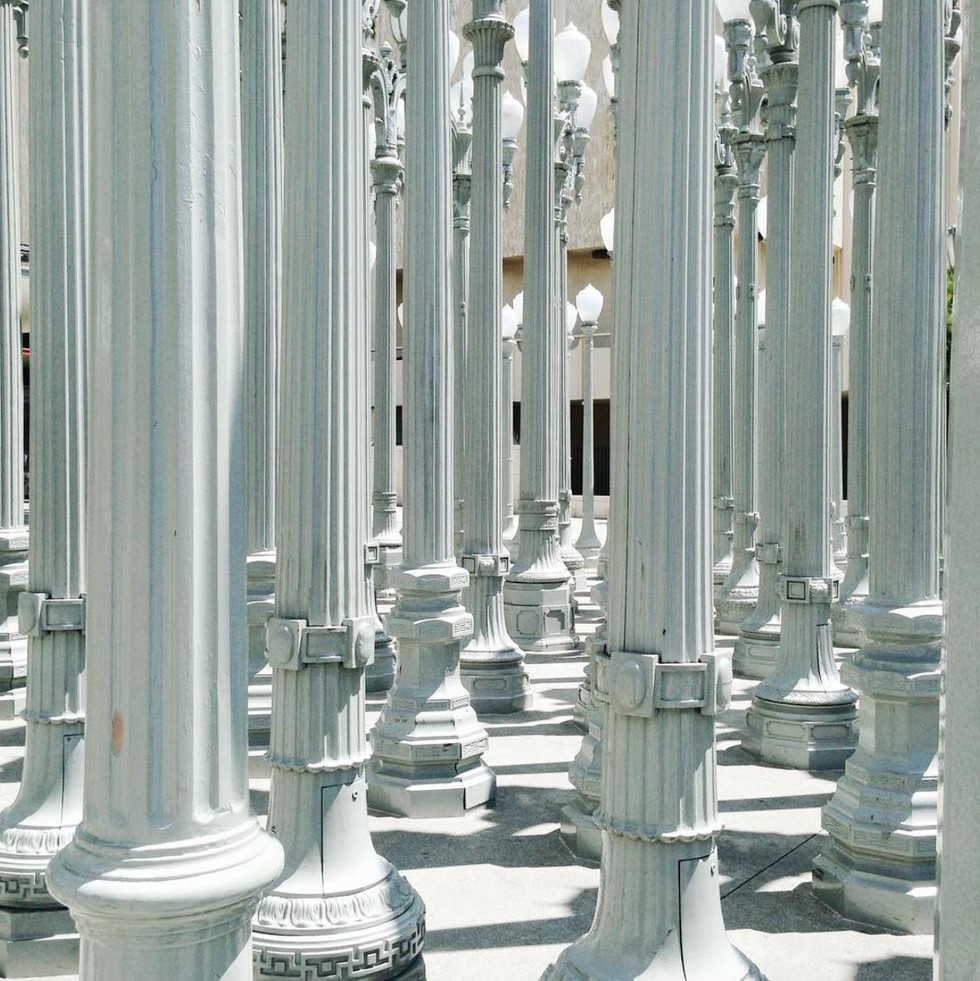 PC via Instagram by @walkingnutshell
LACMA Urban Lights installation
Located at: LACMA, 5905 Wilshire Boulevard at South Fairfax Avenue
And for your classic LA adventure this map from Swiss Cottage Designs sums it up!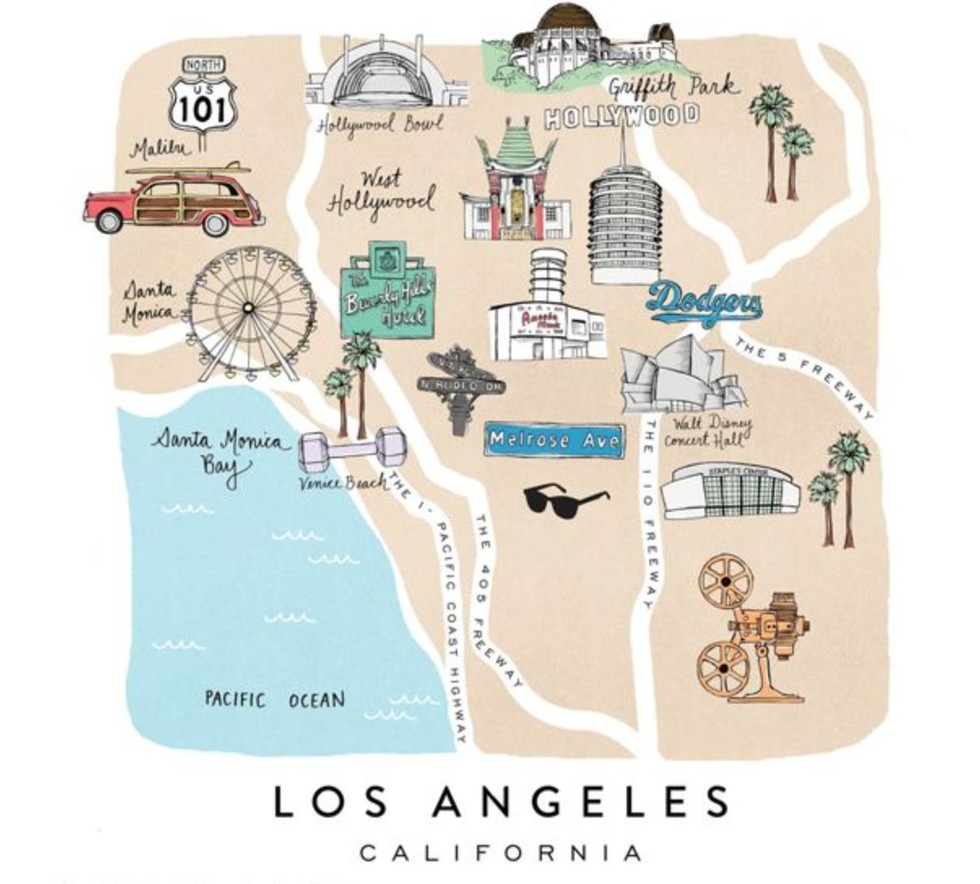 Swiss Cottage Design
Plus...the most classic of all, Disneyland (1313 Disneyland Drive - near West Ball Street)