Our hearts and minds are on Texas. When we look at the news and our social feeds we realize that it's on everyone else's mind too. And the good news is there are lots of ways to get involved. While Houston has been devastated, many of the surrounding areas in southeast Texas, are very much in need as well.
Below we're highlighting brands with sale proceeds campaigns, how to donate directly to organizations with action plans, where to volunteer, drives, and how to help animals. Hope you will all join in the effort: Read > Share > Get involved.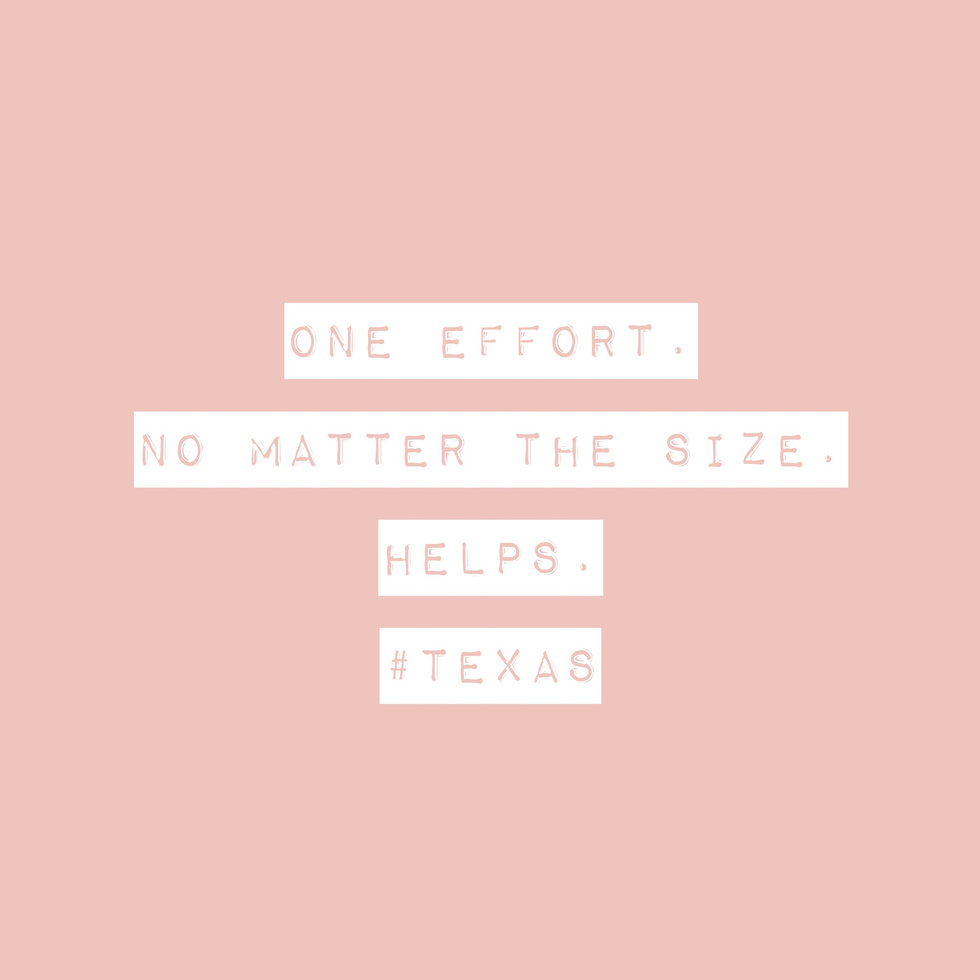 Sale Proceeds Donations
Brands all around are donating a % of sales and we've pulled together some of the brands / shops we know that are doing just that. If you're shopping, shop from them!
AND there are plenty of other ways to get involved:
Donate Money
Put money in the hands of organizations that are on the ground with action plans in place. When it comes to disasters, experts say cash is king for delivering the aid needed, directed by organizations with experience in this field.
Greater Houston Community Foundation
Give to Food Banks
The Houston Press reported earlier this week on how to help donate food. They have a list of food banks on their site and are recommending the following if you want to deliver supplies:
If you want to give food, these food banks encourage you to consider staples: Pop-top (canned) meat and fish, powdered milk, cereal, canned fruit, fruit cups, peanut butter and jelly. Cleaning supplies such as bleach and paper towels will also be accepted. In addition to donating at food bank facilities, local grocers may provide collection points for donations. - The Houston Press
Or more simply, you can donate your dollars for food here.
Volunteer
Food Banks & Shelters need volunteers. If you can be of support you can register here.
There have been some amazing local establishments getting involved to support the community. If you're local check out Southside HTX.
Donate Through A Drive
Local brands and businesses are hosting great drives to reach families and individuals in need. There is never too much action on the ground. Find one to support like this one!
Donate Diapers
Babies are in the storm too. The Texas Diaper Bank is supporting those in need. Here's how you can get involved.
Help Displaced Animals
Save and transport animals that have lost their homes/ families. Shelters need financial donations or pet products. SPCA is also looking for foster homes.
Share your space
We especially loved this idea from The Honest Company "If you have an open room available, Airbnb is helping coordinate temporary housing for those that have been evacuated."
Every effort counts.
Thanks for caring + sharing to more caring hearts.