It's party planning time and with only six weeks until Christmas (I'm sorry I had to point that out), time is ticking to get your party invites out. With over 28,000 invites on Zazzle alone (eek...frightening!), I'm positively confident that a shortlist is needed. Every year I look for something new, different, interesting...the list goes on...and often I am never fully satisfied with what I find. But this year it doesn't seem to be the case. So, wether you want to print or go digital here's my go-to list for the season.
Honesty is the best policy. Cocktail parties = cocktails. Cheers!
That's the Spirit invite
Because who doesn't love a Christmas tree sketch on a card...
Pleasant Glade invite
Simply Pretty.
Holly Kraft invite
This may be a holiday card, but seriously needs to be revamped for a New Years party invite...I mean...how cute, right!?
Fabulous People invite
Because...Monochrome rocks.
Jingle and Mingle InviteTiny Prints
When there is champagne involved...
Pop, Fizz, Clink inviteKate Spade
New Year Thrills invite
Magical. In Love.

Angel New Years inviteJohn Derian
Pretty, not so traditional...and it would match my coasters.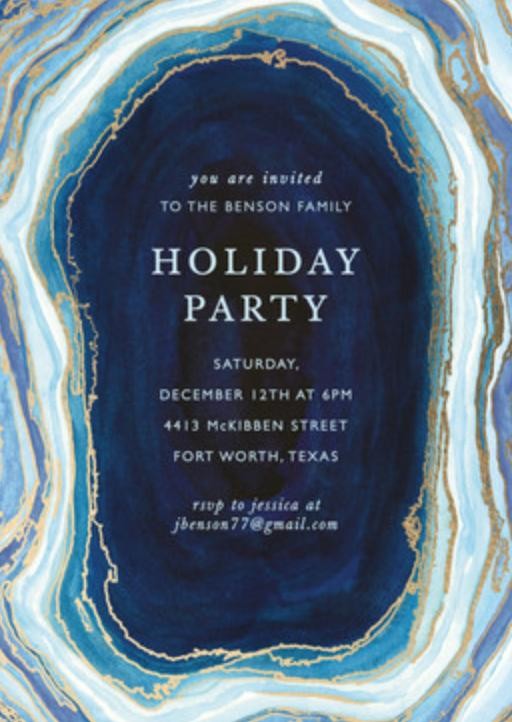 Agate Foil invite
Retro vibes are good vibes...especially when there is something called a Yuletini!
Yuletini invite
Ugly sweater party anyone? I've always wanted to have one...maybe at least for the littles this year. #coolplaydates
Christmas Sweater invite
You didn't really think I wouldn't touch on the trends of 2016?, did you?
Santa Fe invite
Antlers always have a place in the holidays
Arctic Antlers invite
Monochromatic & festive.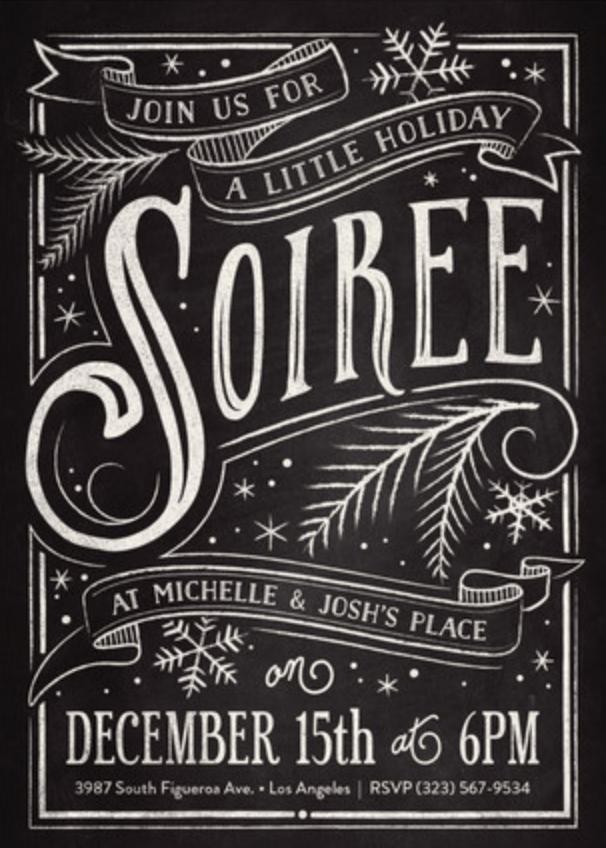 Holiday Soiree invite
Whilst I love a perfectly cooked Christmas dinner, I'm not going to lie...this has HUGE appeal after a lot of work running up to Santa's big delivery.
Holiday Take-out invite
Throwback beyond Thursday...
Rudolph Throwback invite
Chalet, all day. Tis the season to party in the snow.
Chalet Shindig invite
A few, good, words. Even better when you know this will be the result of the party. RSVP reads: YES.
Oh What Fun inviteSugar Paper
Although I subscribe to the thought of non-political party talking points, it's pretty funny that the President-elect has ended up on a "Don we now" party invite.
Don we now invite
Secret Santa gift exchange? Dawn a white beard and match the invite. Actually, don't, that would be weird.
Secret Santa inviteKate Spade
I haven't been invited to a White Elephant exchange in years, but if they are still happening, this invite is sort of, perfection.
Wrapped Elephant invite
Because we needed another reason to bake and eat more goodies this holiday season.
Cookie Swap invite
How could it already be time to say Happy New Years? (insert monkey covering eyes emoji here)
Year in Blooms
Sources: Paperless Post, Tinyprints, Zazzle, Minted